#001 - Maiden Voyage
Shall we pop the champagne? 🍾
Hey there,
Welcome to BFFs, a bi-weekly newsletter around Asia's female-owned businesses, friendships, and funds. I'm Niki, founder of Chief Best Friends, a podcast that helps women succeed at work and in business through meaningful friendships.
You're receiving this because (a) you signed up to receive updates on new episodes—more on this in a bit, or (b) you signed up to receive updates on my research and investigation around Asia's female funding landscape. In a way, these two things are the same.
The podcast is the catalyst for the expanded work I am now doing around female founders. Having spoken and interacted with some of the amazing women and their work best friends in Season 1, I realise that while love (i.e. relationship/friendship) does make the world go 'round, so does money. This newsletter aims to unpack the intertwining forces and systems that hinder and help women succeed in work and business.
Why Asia and why now?
When researching for numbers and data around female funding in Asia, I couldn't find anything with a gendered dataset. There are amazing media outlets and organisations who are doing the work and compiling the VC landscape. I have reached out to share and request for a gendered dataset next time they crunch the numbers. Here's hoping that comes true and that we have something to pore over in the next few months. In the meantime, the data we have available is from the US. Here's a screenshot of a Techcrunch article on the latest figure.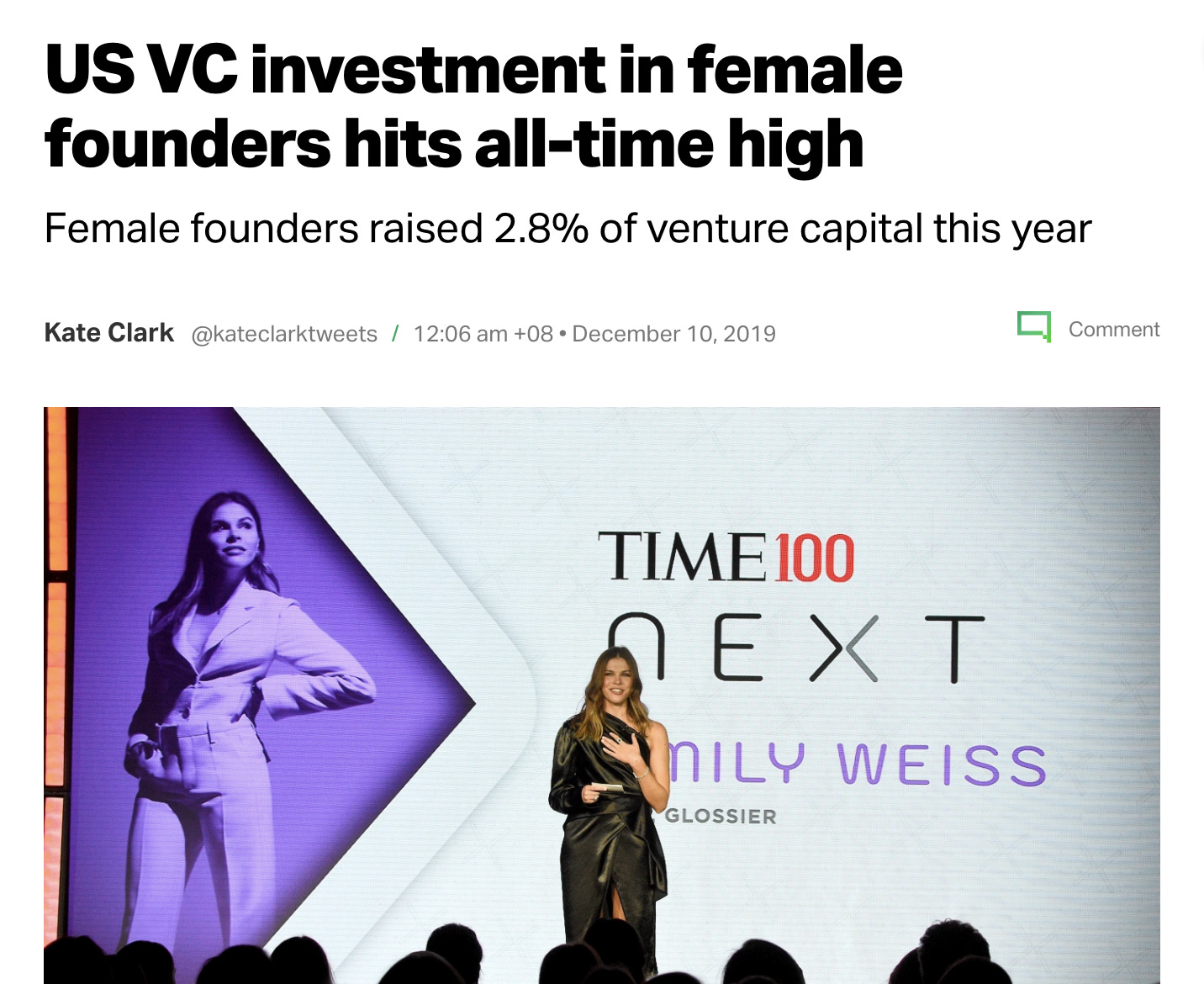 I have to be honest here but "all-time high" and "2.8 percent" feels like an oxymoron. Granted, this is already a 0.6 percent improvement from the year prior and I'm glad that number is moving in a positive direction. While it is something to celebrate, we still have a long way to go. And for those of us in Asia, a good start is figuring out where we are currently, and without the right data, we're going into this blind.
I'm hoping you stick around for future issues and join me in my quest to find out what's going on for female founders in Asia. Else, stay for a stellar lineup of guests coming up in Season 2 of Chief Best Friends.
— Niki
---
Business
Friendships
Funds
---
Chief Best Friends Radar 📡
News and updates from work besties everywhere
---
✨Shine Board✨
Celebrating our community's wins
---
📲Something to celebrate? Tweet me your wins @nikipaniki
👉Got tips, news, content, data to share? Email tips@chiefbestfriends.com.
💜Be a friend and ally. Share this using the button below.